On Sale
Ashwagandha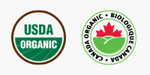 At Zyo, we only offer you high quality products that are good for your health. Here is our ashwagandha powder without additives, artificial colours or flavours, a organic and vegan product. No unwanted preservatives, only one ingredient!
Ashwagandha is a traditional medicinal herb originating from India, where its use dates back thousands of years. It is also known as "winter cherry" or "Indian ginseng". From a nutritional standpoint, this plant has a lot to offer:

Source of antioxidants that have a host of health benefits (anti-inflammatory, protect heart and brain health, improve blood sugar levels...)
High iron content for good blood health
Contains potassium
Ashwagandha is also said to have anti-inflammatory properties, promote sleep, calm anxiety, improve brain function and aid fertility in men.
Easily add our ashwagandha powder to your recipes and beverages to enjoy its benefits. Sprinkle a teaspoon of ashwagandha powder into your...

smoothies
juices
yoghurt
oatmeal
compotes
Caution: do not exceed five grams per day. Not recommended for pregnant women, people suffering from intestinal disorders, hyperthyroidism or hemochromatosis.
Ingredients: organic ashwagandha powder.
Organic certified by Ecocert Canada
This information is for educational purposes only and has not been evaluated by the CFIA or FDA. It is not intended to diagnose, treat, cure, or prevent any disease