On Sale
Anise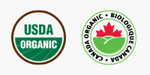 Anise, also known as green anise, has been used for more than 4000 years for its various properties. Its seeds are also infused to soothe digestive disorders and many other ailments.
This ancient spice is highly fragrant and lightly sweet and can be combined with a variety of dishes. It is popular as a basic ingredient in certain alcohols such as pastis or raki.
Very popular, the unique flavour of aniseed can be mixed into a wide variety of dishes. Sprinkle some in your recipes such as:

breads (white bread, gingerbread...)
Desserts (cookies, cakes, muffins...)
Ingredients: organic anise (Pimpinella anisum).
Organic certified by Ecocert Canada
Safety:
 We recommend that you consult with a qualified healthcare practitioner before using any herbal products, particularly if you are pregnant, nursing, or on any medications.