On Sale
Banten Java Oolong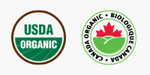 A distinguished oolong from the Banten region on the island of Java in Indonesia. This delicate tea offers subtle floral and fruity notes. Savour the Indonesian know-how and its light aromas at any time.
This oolong is oxidized between 30 and 40%.
Ingredients: Organic Banten Java oolong tea from Indonesia.
Directions for use per cup (250 ml): 1 tablespoon, temperature 95 degrees Celsius, 4 to 7 minutes.
Organic certified by Ecocert Canada
This information is for educational purposes only and has not been evaluated by the CFIA or FDA. It is not intended to diagnose, treat, cure, or prevent any disease