On Sale
Chia seed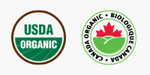 Chia seeds are the edible seeds of the Salvia Hispanica plant.
Discover this true treasure trove of nutrients! A source of protein and fibre, it's an ally to help you feel full while contributing to good digestion. They also contain a remarkable amount of omega-3, a "good fat". Finally, chia seeds also provide iron, calcium and antioxidants.
Highly versatile, you can add them to a variety of foods. Its neutral taste goes unnoticed. At breakfast, add them to smoothies, oatmeal, yogurt, jam or muffins. They are great in salads, salad dressings or soups.
Chia seeds can even replace eggs in a recipe. Simply mix 3 tablespoons of water for every 1 tablespoon of chia seeds and let stand for about 30 minutes until a gel is formed.
Ingredients: organic chia seeds.
Organic certified by Ecocert Canada
This information is for educational purposes only and has not been evaluated by the CFIA or FDA. It is not intended to diagnose, treat, cure, or prevent any disease