On Sale
Chili Powder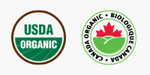 Chili peppers are very much appreciated in Mexican and Indian cuisine for their highly spicy taste. Lovers of strong, fiery flavours adore it.
Very low in calories, the chili pepper still contains antioxidants as well as vitamins A and C. We have ground it into a powder, making it easy to add to multiple dishes.
In the kitchen, chili pepper powder brings an intense spicy touch to your recipes. It goes wonderfully with garlic, onion, coriander, ginger, curry, coconut... Use it sparingly and adjust to taste. As the flavour develops during cooking, it is best to use it in small doses. Discover the warmth of chili peppers in...

chilis
tacos, burritos and fajitas
currys
stir-fries
dips
marinades
At Zyo, we only offer you high quality products that are good for your taste buds and health. All our spices are free of additives, artificial colours and flavours, organic and vegan.
Ingredients: Organic chili pepper powder.
Organic certified by Ecocert Canada
Safety:
 We recommend that you consult with a qualified healthcare practitioner before using any herbal products, particularly if you are pregnant, nursing, or on any medications.