On Sale
Chipotle Powder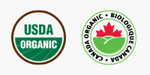 Chipotle powder is an essential part of Mexican cuisine. Having it on hand in powder form is much more practical than having to prepare actual whole peppers.
Its incredible smokey flavour adds depth and a touch of heat to any dish. It is common in Mexican recipes such as tacos, chilli and salsa. Sprinkle this popular earthy spice in quesadillas, stews, soups, sauces, marinades, dressings.
Ingredient: Organic chipotle powder
Organic certified by Ecocert Canada
Safety:
 We recommend that you consult with a qualified healthcare practitioner before using any herbal products, particularly if you are pregnant, nursing, or on any medications.