On Sale
Dried Sour Cherries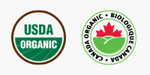 Organic dried cherries with no added sugar, just fruit! A delicious fat-free snack that will satisfy your sugar cravings.
The cherry is a small fruit that has been eaten for thousands of years. Its sweet taste and many nutrients make it a food of choice.

This succulent fruit is a source of vitamins C and A, calcium and fibre, the latter helping with digestion and appetite regulation. Cherries also contain an impressive concentration of antioxidants.
Combine them with a handful of nuts for a simple and filling healthy snack, trail mix style.
They go well with plain yogurt or cereal bowls.
Add them to your pastries such as cakes, muffins, cookies, etc.
Try them in your salads for a touch of freshness.
Ingredients: Organic dehydrated cherry, apple juice.
Organic certified by Ecocert Canada
This information is for educational purposes only and has not been evaluated by the CFIA or FDA. It is not intended to diagnose, treat, cure, or prevent any disease