On Sale
Valerian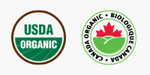 Valerian is a herb that has been used for thousands of years for its relaxing properties. In ancient Greece, it was prescribed by doctors to treat insomnia. Today, the World Health Organization (WHO) recognizes that it can combat anxiety and help sleep.
Valerian has been attributed with soothing and sleep-enhancing properties.
Enjoy a valerian infusion to calm anxiety and promote sleep. Mix 2-3 grams with 150 ml of boiling water for 5-10 minutes.
Valerian is not recommended for children or pregnant or breastfeeding women.
Ingredients: organic valerian.
Organic certified by Ecocert Canada
Safety:
 We recommend that you consult with a qualified healthcare practitioner before using any herbal products, particularly if you are pregnant, nursing, or on any medications.