On Sale
Mung Bean Protein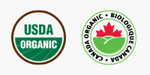 Do you know about mung beans? They are small green beans that are part of the legume family. They have been cultivated since ancient times in Asia, where they are appreciated for their slightly sweet taste and great versatility.
At Zyo, we offer you a protein powder entirely made from this powerful food. Protein powder made from mung beans offers a nice alternative to the typical whey protein. Try it to help your muscles recover from training and to feel fuller.
From a nutritional point of view, mung bean protein has several important qualities:

an excellent source of plant-based protein that fits well in a vegetarian or vegan diet.
contains an impressive amount of fibre, which helps with digestion and appetite regulation
high antioxidant content
rich in essential amino acids
important source of folate (vitamin B9)
rich in magnesium, vitamin B1 and phosphorus
source of potassium, iron and zinc
Our product is...
vegan
organic
dairy-free
soybean-free
gluten-free
Try our mung bean protein powder in your recipes to add many nutrients! It goes well with smoothies, chia puddings or yogurt bowls.
Ingredients: Organic mung bean protein powder.
Organic certified by Ecocert Canada
This information is for educational purposes only and has not been evaluated by the CFIA or FDA. It is not intended to diagnose, treat, cure, or prevent any disease