On Sale
Hemp Seed Dehulled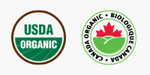 Hemp seeds are among the most nutritious and versatile. Their subtle hazelnut taste goes well with many meals and snacks.
Distinguished by their exceptional nutritional composition, hemp seeds are very popular. A source of protein and fibre, they contribute to good digestion and a feeling of satiety. In addition, just one tablespoon of hemp seeds provides the recommended daily intake of vitamin E!
This food is very simple to include in your diet. Add a handful to a salad, smoothie, yoghurt or cereal bowl. Use them to enhance your breads, pancakes and muffins.
Store in the refrigerator.
Ingredients: Organic hemp seeds.
Organic certified by Ecocert Canada
This information is for educational purposes only and has not been evaluated by the CFIA or FDA. It is not intended to diagnose, treat, cure, or prevent any disease