On Sale
Spirulina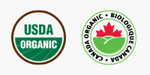 Spirulina is a type of edible seaweed with many health benefits. The Aztecs consumed it because it is believed to stimulate the immune system and the digestive system.
From a nutritional point of view, spirulina has several impressive qualities. In addition to containing few calories, it is:

an excellent source of iron, helping the production of red blood cells.
a source of plant-based protein that fits well in a vegetarian or vegan diet
beta-carotene rich
it contains a good concentration of vitamins and minerals
naturally contains chlorophyll, a detoxifier.
Our product is...
vegan
dairy-free
soy-free
gluten-free
Try our great spirulina powder in your recipes to add many nutrients and a great green colour! Spirulina goes well with smoothies, chia puddings, yogurt bowls or lattes. One teaspoon is enough to benefit from the vitamins!
Caution: not recommended for people suffering from phenylketonuria due to its phenylalanine content.
Ingredients: Organic spirulina powder (algae strain: Spirulina platensis).
Organic Certified by Ecocert Canada
This information is for educational purposes only and has not been evaluated by the CFIA or FDA. It is not intended to diagnose, treat, cure, or prevent any disease