On Sale
Africana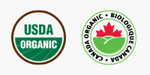 Here's a mix prepared by Zyo that gives you a passport to Africa! Try this rooibos herbal tea that offers an exceptional bouquet of exotic flavours and aromas. An incomparable blend of spices, fruits and flowers that will pleasantly surprise you. Each cup offers a clever combination of citrus and floral notes for a true overseas getaway!
Ingredients: Organic green Rooibos from South Africa, organic rose petals, organic mango pieces, organic marigold flowers, organic orange peel, organic apple pieces, natural essences.

Directions for use per cup (250 ml): 1.5 teaspoon, temperature 98 degrees Celsius, 4 to 6 minutes.
Contains no theine.
Organic certified by Ecocert Canada
This information is for educational purposes only and has not been evaluated by the CFIA or FDA. It is not intended to diagnose, treat, cure, or prevent any disease