On Sale
Beat Bloating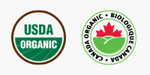 This great mix exclusive to Zyo is your ally for digestion. Try this herbal tea after a meal to fight bloating and give your stomach a boost thanks to the virtues associated with chamomile, ginger and peppermint. A perfectly balanced combination of mint and spice aromas for a sweet and comforting taste.
Ingredients: Organic lemon balm, organic camomile, organic ginger, organic peppermint, organic fennel, organic aniseed.
Directions for use for one cup (250 ml): 1-1.5 teaspoon, temperature 98 degrees Celsius, 4-6 minutes.
Contains no theine.
Organic certified by Ecocert Canada
This information is for educational purposes only and has not been evaluated by the CFIA or FDA. It is not intended to diagnose, treat, cure, or prevent any disease