On Sale
Spinach Powder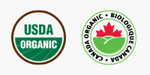 Spinach is all the rage for its high nutrient content and beautiful dark green colour. This delicately flavoured vegetable is a superb source of various vitamins and minerals for overall good health.
At Zyo, we offer you a spinach powder to add this vegetable to your various recipes. No additives, artificial colours or flavours, just vegetable! Organic and vegan.
From a nutritional point of view, spinach has several considerable qualities:

excellent source of antioxidants
source of vitamins A, C and K
contains fibre, which aids digestion and appetite regulation
good source of iron
contains zinc and magnesium
Try our spinach powder in your recipes to add many nutrients and a touch of colour! This powder goes great in:

smoothies and juices
sauces, marinades and dressings
breads and muffins
pasta
soups
Ingredients: Organic spinach powder.
Organic certified by Ecocert Canada
This information is for educational purposes only and has not been evaluated by the CFIA or FDA. It is not intended to diagnose, treat, cure, or prevent any disease