On Sale
Apple Crumble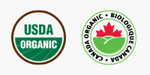 Here is a Zyo exclusive blend concocted especially for you. A perfect herbal tea for the apple season with its warm colours and comforting taste. A divine combination of cinnamon and organic apple pieces that results in a slightly spicy as well as fruity taste. Let yourself be enveloped by the warmth and delicacy of a classic infusion that is perfect for cool autumn evenings.
Ingredients: Organic honeybush from South Africa, organic apple pieces, organic cinnamon, natural essences.
Directions for use for one cup (250 ml): 1.5 teaspoon, temperature 98 degrees Celsius, 4 to 6 minutes.
Contains no theine.
Organic certified by Ecocert Canada
This information is for educational purposes only and has not been evaluated by the CFIA or FDA. It is not intended to diagnose, treat, cure, or prevent any disease