On Sale
Barley Grass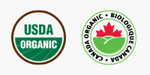 Barley grass is considered a super food, and for good reason: this grass is a little treasure of brightly coloured nutrients!
Barley grass is rich in nutrients, especially antioxidants. It is an excellent source of vitamin A and also contains vitamin B2, iron and magnesium. Furthermore, it is also a natural source of chlorophyll, which, among other things, stimulates the immune system, purifies the organism and promotes good blood health.
Mix one tablespoon with one cup (250 ml) of coconut water, smoothie, juice or simply water. Try barley grass juice powder in dips, soups, pesto... Its green colour will impress you! Its slightly bitter taste is easily hidden among other flavours.
No sugar added, organic barley grass. Suitable for vegan diets.
Ingredients: Organic barley grass juice powder.
Organic certified by Ecocert Canada
This information is for educational purposes only and has not been evaluated by the CFIA or FDA. It is not intended to diagnose, treat, cure, or prevent any disease