On Sale
Honeybush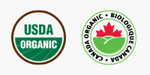 Discover a plant that is highly liked everywhere in the world. Honeybush grows only in South Africa and its popularity can be attributed as much to its exquisite flavour as to its health benefits.
It is a beverage that is particularly rich in antioxidants and its expectorant virtues make it an ally against colds. It contains a lot of vitamin C, magnesium and potassium. It also includes iron and zinc; a real potion of nutrients!
A delicately scented honey-flavoured infusion that can be enjoyed at any time.
Ingredients: Organic honeybush from South Africa.
Directions for use per cup (250 ml): 1 teaspoon, temperature 90 degrees Celsius, 6 to 8 minutes.
Contains no theine.
Organic certified by Ecocert Canada
This information is for educational purposes only and has not been evaluated by the CFIA or FDA. It is not intended to diagnose, treat, cure, or prevent any disease