On Sale
Moringa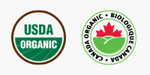 The moringa is a tree native to northern India. It is sometimes called the "miracle tree" because of its high nutrient content.
From a nutritional standpoint, moringa leaves have an impressive profile:

Source of vitamins A, B2, B6 and C.
Source of iron and magnesium
Source of antioxidants, which have a host of health benefits (anti-inflammatory, protect heart and brain health, improve blood sugar levels, etc.).
Fat free
At Zyo, we only offer you healthy, high quality products without additives, artificial colours or flavours. No undesirable preservatives, only one ingredient: organic moringa leaves.
Easily add our moringa leaf powder to your recipes and beverages to enjoy its benefits. Sprinkle it in your favorite...

smoothies
juices
oatmeal
cereals
yogurt
dips
Ingredients: Organic moringa leaf powder (Moringa oleifera).
Organic certified by Ecocert Canada
This information is for educational purposes only and has not been evaluated by the CFIA or FDA. It is not intended to diagnose, treat, cure, or prevent any disease