On Sale
Nettle Leaf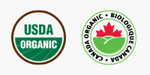 Nettle is a herb that can get a bad reputation due to the itching it can cause when rubbed. However, it has a lot to offer! Discover nettle leaf, which has been used for thousands of years for its medicinal virtues.
Nettle leaves are particularly appreciated for their anti-inflammatory properties and their interesting concentration of vitamins and minerals.
Prepare an infusion made from nettle leaves for a beverage full of benefits such as polyphenol antioxidants, which are good for blood flow. Enhance this herbal tea with sugar or cinnamon.
Ingredients: organic nettle leaf.
Organic certified by Ecocert Canada
Safety:
 We recommend that you consult with a qualified healthcare practitioner before using any herbal products, particularly if you are pregnant, nursing, or on any medications.