On Sale
Spearmint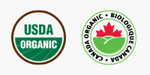 Discover this delicious herbal tea in its simplicity. Exquisitely fresh, it offers a slightly sweet taste. Mint has been used for centuries for its invigorating taste and health benefits. Relax and enjoy this comforting beverage.
Ingredients: Organic spearmint.
Directions for use per cup (250 ml): 1.25 teaspoon, temperature 98 degrees Celsius, 1 to 2 minutes.
Contains no theine.
Organic certified by Ecocert Canada
This information is for educational purposes only and has not been evaluated by the CFIA or FDA. It is not intended to diagnose, treat, cure, or prevent any disease