On Sale
Tonic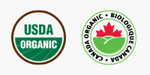 Here is a mix exclusive to Zyo made with the greatest care. A delicious lemony combination delicately enhanced with notes of spices. This tonic will invigorate your taste buds with its citrus taste. Enjoy this infusion hot or on ice for a refreshing drink.
Ingredients: Organic honeybush, organic nettle leaf, organic lemon zest, organic lemongrass, organic bramble leaf, organic myrtle leaves, organic ginger, natural essences.
Directions for use per cup (250 ml): 1-1.5 teaspoon, temperature 98 degrees Celsius, 4-6 minutes.
Does not contain theine.
Organic certified by Ecocert Canada
This information is for educational purposes only and has not been evaluated by the CFIA or FDA. It is not intended to diagnose, treat, cure, or prevent any disease