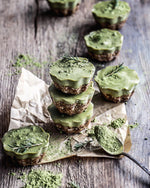 Base:
- 1 cup rolled oats
- 1/2 cup coconut flakes
- 10 medjool dates
- 2 tbsp of almond butter
- 2 tbsp of almond milk
- 1 tsp of coconut oil.
Topping:
- 1 t cashews soaked in hot water 1 hour
- 1 t coconut cream (firm part of a can of coconut milk)
- 1/4 cup maple syrup
- 1 tbsp matcha powder
- 1 tsp of vanilla extract. 
Preparation:
Mix the base ingredients in a food processor until a smooth dough forms and press into the bottom of small molds, set aside in the refrigerator.
Blend all filling ingredients in blender until creamy.
Pour over crusts and place in freezer for at least one hour.